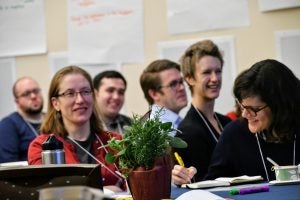 In collaboration with the Center for Educational Effectiveness, we are launching a new Journal Club that will meet bi-weekly at CEE. The main goal of this journal club is to provide a safe, welcoming space where scholars can have open, respectful, cross-disciplinary conversations around issues and research in teaching and learning.
The "rules" of this journal club are:
Everyone is expected to read the papers before coming.
We are all here to learn.
We are a welcoming space for people of all backgrounds and experiences, our only pre-requisite is interest!
We welcome people of all disciplines, schools of though and methodological focus; diversity is our strength.
Discussion should be respectful, we are critical colleagues exploring together.
Make it a Brown-Bag Occasion!
Feel free to bring your lunch!
Light refreshments will be served (courtesy of CEE).
---
Next Meeting: Friday June 8, 1pm, The Grove 1353
This coming meeting we will look at 2 papers focused on collaboration and group work.